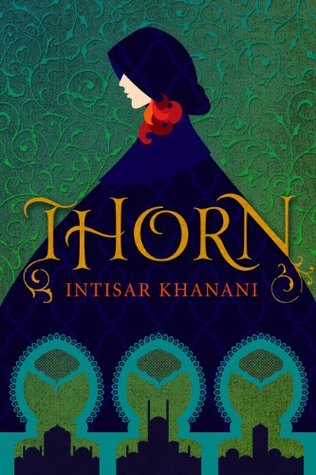 For Princess Alyrra, choice is a luxury she's never had … until she's betrayed.
Princess Alyrra has never enjoyed the security or power of her rank. Between her family's cruelty and the court's contempt, she has spent her life in the shadows. Forced to marry a powerful foreign prince, Alyrra embarks on a journey to meet her betrothed with little hope for a better future.
But powerful men have powerful enemies–and now, so does Alyrra. Betrayed during a magical attack, her identity is switched with another woman's, giving Alyrra the first choice she's ever had: to start a new life for herself or fight for a prince she's never met. But Alyrra soon finds that Prince Kestrin is not at all what she expected. While walking away will cost Kestrin his life, returning to the court may cost Alyrra her own. As Alyrra is coming to realize, sometime the hardest choice means learning to trust herself.
This is my first 5 star book of 2015. It's hard to put into words how much I loved this novel. I read this book in one sitting, which is extremely rare for me. I found it hard to stop because I had to know how the story ended.
Everything about this story is so well done. The plot is a retelling of The Goose Girl, which I haven't read before. However, I don't think it's important to know the fairy tale before reading this book. Intisar Khanani writes in this beautiful prose that is descriptive without being too wordy or boring. She tells you just enough about the surroundings and the world, and then lets your imagination fill in the rest. The story is richly layered with so many facets.
The character of Alyrra is so interesting. She starts off as this meek, frightened girl and really comes into herself. I empathized with her so strongly. She's forced into a life she didn't choose and while most heroines in fantasy novels come from poor backgrounds and move up in the world, it was a really interesting twist to have a princess become a goose girl. Also, I loved how Alyrra wasn't all powerful and didn't have any special abilities. She was just a regular girl who reluctantly became a savior.
This book deals with some really serious themes and some really big moral questions. Alyrra sees cruelty and goes through some terrible events. In fact, she never seems to get a break, but she manages to handle everything admirably. She's forced to question the definition of justice, she learns about the darkest parts of revenge and also what family, honesty, and loyalty mean.
I can't recommend this book highly enough and I've put all of Intisar Khanani's other works on my to-read list. Excellent read – highly recommended.