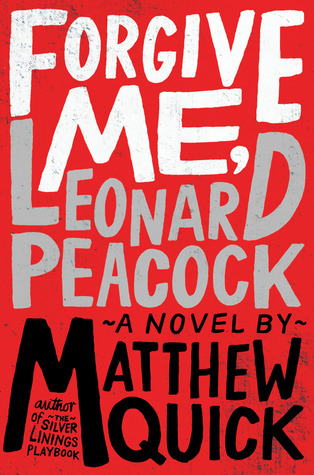 Today is Leonard Peacock's birthday. It is also the day he hides a gun in his backpack. Because today is the day he will kill his former best friend, and then himself, with his grandfather's P-38 pistol.
But first he must say good-bye to the four people who matter most to him: his Humphrey Bogart-obsessed next-door neighbor, Walt; his classmate, Baback, a violin virtuoso; Lauren, the Christian homeschooler he has a crush on; and Herr Silverman, who teaches the high school's class on the Holocaust. Speaking to each in turn, Leonard slowly reveals his secrets as the hours tick by and the moment of truth approaches.
In this riveting look at a day in the life of a disturbed teenage boy, acclaimed author Matthew Quick unflinchingly examines the impossible choices that must be made—and the light in us all that never goes out.
The first book I read by Matthew Quick was The Silver Linings Playbook, which I really enjoyed. I was hoping that I'd enjoy Forgive Me, Leonard Peacock just as much, and while I did like it, I was also a little disappointed. This book is so close to being amazing, but it falls short.
The plot makes the novel sound like it's going to be heartbreaking, and while it was interesting, I didn't find it especially powerful. Everything is laid out in such a convenient manner, and there was nothing that I found especially shocking. The story didn't reach me.
The characterization also fell a little flat. Leonard is one of those precocious characters, but I've read so many others like him and they were written better and more three dimensional than he was. The supporting cast was also not fully fleshed out. The only truly distinctive part about the book was the reason why Leonard wanted to kill his best friend and then himself. This was a topic that I haven't encountered before in young adult novels, and I appreciated it's discussion.
I wanted to like this book more than I did, but it wasn't enough for me. I think there was something lacking in its writing and its characters that I didn't fully connect with. However, I'll still be reading the rest of Matthew Quick's novels.