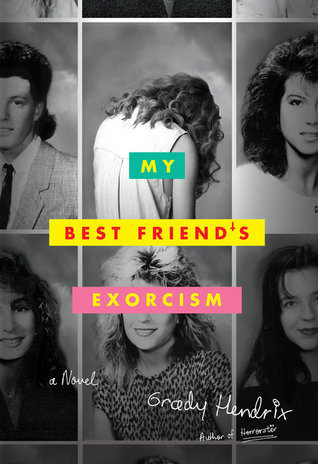 Abby and Gretchen have been best friends since fifth grade, when they bonded over a shared love of E.T., roller-skating parties, and scratch-and-sniff stickers. But when they arrive at high school, things change. Gretchen begins to act…different. And as the strange coincidences and bizarre behavior start to pile up, Abby realizes there's only one possible explanation: Gretchen, her favorite person in the world, has a demon living inside her. And Abby is not about to let anyone or anything come between her and her best friend. With help from some unlikely allies, Abby embarks on a quest to save Gretchen. But is their friendship powerful enough to beat the devil?
I first was introduced to Grady Hendrix when I read his first novel, Horrorstor. I really enjoyed Horrorstor, and I had really high expectations especially when I found out that this book takes place in a high school in the 80's. I was even more intrigued when I realized the book was fashioned like an actual high school yearbook, just like Horrorstor was fashioned like an Ikea catalogue.
I was really disappointed by the actual story, but I liked the way the book was packaged. The story was extremely corny and ridiculous. There was nothing even remotely scary or creepy about it. Also, it was wholly unoriginal. I felt like I'd read so many books and/or watched so many movies about this exact thing, even though I really haven't. Horrorstor creeped me out, but this book didn't.
I also thought the characterization was weak and nothing momentous really changed within the characters. The writing style was also pretty mediocre. I don't think I can really recommend this book to horror lovers, but if you're interested in the cool way it's packaged and not expecting mind-blowing things from the story, check it out.