Uprooted – Naomi Novik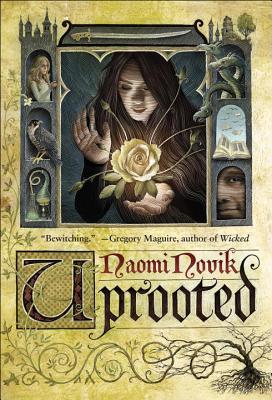 I loved this book so much. It was such a creative fantasy novel. First off, it's really hard to find an adult standalone fantasy novel, so this book is already quite unique in the genre. It has an awesome protagonist, and very well rounded supporting characters. The story is based on Polish mythology and the plot is layered and complex. It has beautiful writing, without being overly descriptive, which is also rare in the fantasy genre. There were a few scenes which dragged a little for me, but I'm highly recommending this book to all fantasy lovers out there.
Yaqui Delgado Wants to Kick Your Ass – Meg Medina

I think this book was a missed opportunity. It's a story abut bullying, but also about identity and what family and friendship mean. It also deals with the topic of racism and preconceived notions about people. However, the problem was that it never made you feel invested in Piddy's story. I didn't like any of the characters in the story, and while the ending was realistic, it felt like a cop out. I don't know if there was any transformation to Piddy's character at all. It's not the best book out there for dealing with these themes.
A Visit From the Goon Squad – Jennifer Egan

This book won the Pulitzer Prize in 2011 and in my opinion, it's completely well deserved. I fell in love with this book immediately. It's very hard to describe it, but it's basically a novel that contains short stories about many different characters that all intersect in each other's lives. The timelines all intersect in many places, and part of the fun of the novel is to try and figure out how everyone knows each other. The writing was sharp and witty, but the thing I loved the most were the characters. Even though they were people that wouldn't be your neighours or even acquaintances (music producers, magazine editors, musicians), they felt like real people. They were larger than life, yet still so human. Even though I don't know anyone quite like them, I felt like I did. I think people might call this book pretentious or overrated, but I went into it with no expectations and I was shocked at how well Jennifer Egan understood the realities of time. Amazing book.
The Night Sister – Jennifer McMahon

This book was extremely addictive. I was racing through it to figure out what happened, and while I guessed a couple of plot points, I didn't guess everything. I would classify it as a psychological thriller, but it's interesting because it has three timelines with two different groups of people. The characters were well-written, and the plot was exciting, but the ending was terrible. I was so disappointed in the ending that it completely ruined the book for me. I was expecting something completely different in the resolution of the novel, which is why I can't recommend it. I think I need to give Jennifer McMahon's other books a try though.
Stolen – Lucy Christopher

I liked this novel, but I'm mad at myself for liking it. This isn't a realistic story about a teenager's abduction at all. This isn't how things go, but this is a more interesting story to read. It's very unique when a book makes you pity the kidnapper as well as the kidnapped teen girl. The novel is very atmospheric and Lucy Christopher's writing was perfect for describing Gemma's situation. This book is both bleak and hopeful, and the ending tore me apart. It's a complicated novel and it has no easy answers, which I suppose is always the reality. A hard read, but enjoyable. Recommended to others.