Reading Stephen King's writing is a delight. He's a master with words and he creates these really vivid settings and characters. He writes these really creepy scenes that make you shudder and want to take a break from reading, but unfortunately, this book didn't scare me. I didn't realize this book was about vampires when I started reading it and since I've never found vampires very scary, I was unimpressed. However, the writing was great and the characters were all fully developed and very interesting to read about. I enjoyed the plot and liked the interactions between all of the different characters and I even enjoyed reading about the history of the small town, but I was never scared, so as a horror novel, it isn't one I would recommend.
I Am Malala – Malala Yousafzai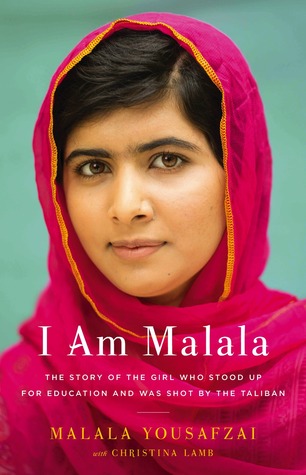 I believe there are people who come into this world to do great things, and Malala Yousafzai is a prime example of such a person. I consider her to be a personal hero and an inspiration. Her goals of achieving literacy and education for all young women in Middle Eastern countries is one I firmly stand behind. I truly believe that the reason for most conflict is due to a lack of education.
This book was a harrowing account of what led her to be shot in the head by the Taliban and how she recovered from such a senseless attack. She clearly laid out the events that brought the Taliban into the Swat Valley, and how they misrepresented themselves to the inhabitants to such a degree that they gained popularity almost overnight. It showed how desperately people want to believe that there is someone who will fight for them.
However, I think this was a pretty superficial account of Malala's life. I felt like there were quite a few things she never discussed and even though she talked about the terrible conditions she and her family lived in, I felt like it was much worse and she didn't go into the ugly details. Additionally, I wasn't as interested in the history of the Swat valley, Pakistan, and Afghanistan but I recognized why talking about the history was important.
Overall, I think this is a must-read book for anyone who believes in women's rights, education, literacy, and wants to know more about the political regime currently in Pakistan.
Oh boy, was I disappointed by this novel. I absolutely love Richard Kadrey's Sandman Slim series, but his venture into writing a young adult novel was extremely unsuccessful. The plot was nonsensical and the characters were soweakly written that it's almost shocking that the Sandman Slim series is by the same author.
I was bored throughout the entire book, hated the myth and story behind it, and would not recommend it at all.
I Know Why the Caged Bird Sings – Maya Angelou
This is the first book by Maya Angelou I've read and I thought it was immensely powerful. There are some scenes in this book that are extremely graphic (i.e. there's a scene of child rape), and I found it stomach churning. Reading other reviews for this book, I noticed there were some (white) parents who wanted to shield their children from reading this book due to the graphic content.
Are you kidding me?
This is Maya Angelou's memoir. These things actually happened to her and to "shield" your children from reading this book is a disservice to them. Life isn't pretty, and growing up non-white in a world that reveres it is an ugly thing to read about, but it's necessary. I felt Maya Angelou's anger and fury almost like it was mine. I understood exactly what drove her to write this book, and it's an important reason.
This is a must-read for everyone.