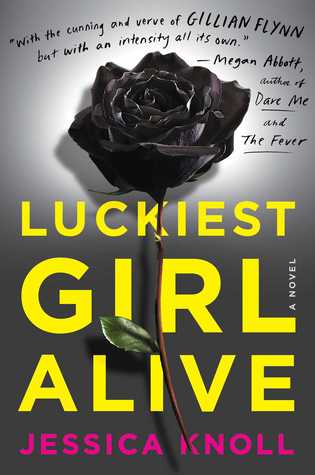 As a teenager at the prestigious Bradley School, Ani FaNelli endured a shocking, public humiliation that left her desperate to reinvent herself. Now, with a glamorous job, expensive wardrobe, and handsome blue blood fiancé, she's this close to living the perfect life she's worked so hard to achieve.
But Ani has a secret.
There's something else buried in her past that still haunts her, something private and painful that threatens to bubble to the surface and destroy everything.
I received a copy of this book from Goodreads Giveaways, but this has not affected my review in any way.

When I first heard about this novel, I was excited to get my hands on it. It sounded so interesting and mysterious and hits all my "must-read" buttons. I'm happy to say that I really enjoyed this book and find Jessica Knoll to be a really promising new writer.
There's a new trend in fiction these days that was started by Gillian Flynn's Gone Girl. It's the trend of dark, suspenseful novels with unsympathetic main characters. Personally, it's a trend I'm fully behind because nobody is truly black and white. People aren't heroes or villains and life is never that simple. It's rewarding to have literature mimic this fact. I like how protagonists deal in shades of grey and make mistakes and can be just as flawed as people are. It's a big risk to have your main character be unsympathetic, but in this novel it pays off.
I hated Ani when we were first introduced to her. She was vapid, superficial and completely obsessed with how people saw her. She works in a selfish industry, is obsessed with losing weight for her upcoming wedding, and proving to everyone how perfect her life is. Essentially, she's one of those women you love to hate. By the end of the novel, all I wanted to do was give her a big hug.
The plot alternates between chapters in the present and chapters in the past. It comes together in a really superb way. While the big reveal wasn't an original storyline, it was still extremely suspenseful and horrific. It completely explained what made Ani the person she is. While I enjoyed the high school chapters more than the frothy chapters that took place in the present, it was still a very enjoyable, compelling read.
This book will be released May 12th, 2015. Overall, I highly recommend this novel and I forsee big things for Jessica Knoll as a writer.