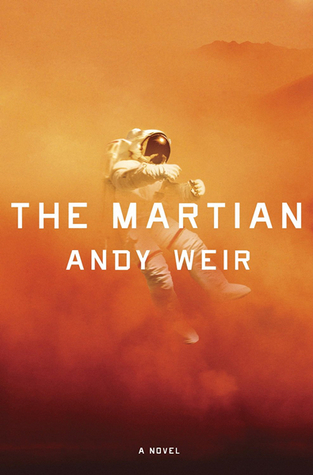 Six days ago, astronaut Mark Watney became one of the first men to walk on the surface of Mars. Now, he's sure he'll be the first man to die there.
It started with the dust storm that holed his suit and nearly killed him, and that forced his crew to leave him behind, sure he was already dead. Now he's stranded millions of miles from the nearest human being, with no way to even signal Earth that he's alive–and even if he could get word out, his food would be gone years before a rescue mission could arrive. Chances are, though, he won't have time to starve to death. The damaged machinery, unforgiving environment, or plain-old "human error" are much more likely to get him first.
But Mark isn't ready to give up yet. Drawing on his ingenuity, his engineering skills–and a relentless, dogged refusal to quit–he steadfastly confronts one seemingly insurmountable obstacle after the next. But will his resourcefulness be enough to overcome the impossible odds against him?
This book is a Goodreads Choice 2014 winner in the category of Science Fiction. I've heard multiple people rave about how amazing it is and what a magnificent storyteller Andy Weir is. I went into this book knowing all about that hype, and while I really enjoyed it and can understand all of the praise that is heaped upon it, I think the hype kept me from thinking of this book as perfect.
This book grabbed my attention almost immediately. It wasn't just due to the hype and the reviews, it was because it's such a unique idea. I've never seen a book with a premise quite like this one. I'm also a little obsessed with Mars after reading the wonderful Red Rising by Pierce Brown. As you can probably tell, my expectations were unreasonably high.
I found that the novel has a really difficult beginning. There's a lot of technical information thrown at the reader really fast. There's a lot of science talk, and while computers and technology are my thing, I'm not a huge fan of science. There was so much information about botany, chemistry, physics and other scientific aspects that it became really difficult for me to get into the book. However, there's a hump that the reader needs to cross. Once all the technical lingo is out of the way, and everyone understands what they need to about the environment, then the plot really starts. And oh boy, what a plot it is. There are some unlucky people, and then there are people who are beyond unlucky. Mark Watney is faced with trials and tribulations over and over again, but somehow manages to keep a sense of humour and a sharp wit while faced with all these issues.
Mark Watney is basically the heart of this novel. Watching his ingenuity play out and reading his smart ass remarks to horrible situations was really the best part. I found myself laughing out loud multiple times and repeatedly texted a friend to describe how hilarious I was finding it. I spoke of it in such great terms, he's planning to go out and buy a copy.
I found that the plot did drag a little in certain places, and while I did enjoy the switch from Mark's perspective to JPL and NASA, it was a little abrupt at times. I also can't vouch for the accuracy of the science stuff because it's so over my head. However, Commander Chris Hadfield vouches for the space stuff and I know Andy Weir researched the science stuff really well, so I'm assuming it's pretty accurate.
Also, a fun fact: this book is becoming a movie starring Matt Damon, so that'll be really cool. I'm definitely going to watch it…in theatres…on opening weekend. It's Jason Bourne playing Mark Watney, come on.
This book is wonderful, and it's one I highly recommend to everyone, but please, go into it with tempered expectations. It's great, but not amazing. I still think any science fiction fan will love it. Highly recommended.