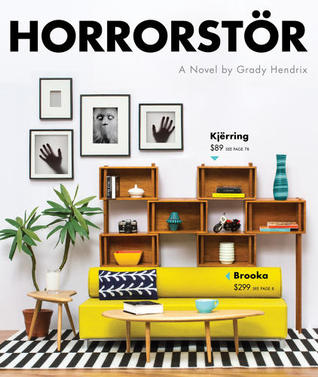 Something strange is happening at the Orsk furniture superstore in Cleveland, Ohio. Every morning, employees arrive to find broken Kjerring bookshelves, shattered Glans water goblets, and smashed Liripip wardrobes. Sales are down, security cameras reveal nothing, and store managers are panicking.
To unravel the mystery, three employees volunteer to work a nine-hour dusk-till-dawn shift. In the dead of the night, they'll patrol the empty showroom floor, investigate strange sights and sounds, and encounter horrors that defy the imagination.
First off, can we talk about how incredibly this book is packaged? You can't really see it from the picture, but the book looks just like an order catalogue. Inside, there are product illustrations, a home order delivery form, and coupons. There's even a map of the Orsk furniture store. It's SUCH a brilliant idea, and I'm not surprised this book comes from the amazing publisher Quirk Books.
This book captured my attention immediately with its setting. I've never heard of a horror novel taking place in a furniture store and definitely not an Ikea-like furniture store. It's such a unique idea that I was very eager to read the novel. Going into this book, I knew it would be a cross between humor and horror. I didn't know how it would divide into the two genres, but it turns out the first half is quite humorous. It's a little bit of a social commentary on large organizations and retail. It also really stresses how corporations try to get you to buy things. I found the first half to be really entertaining and getting to know the main cast of characters was fun. All of the characters together were a little like a teen movie. Amy was the jaded, cynical employee, Ruth Anne the slightly naive mom type, Matt the bearded hipster, Trinity the cool punk girl, and Basil the straight laced boss.
This is why the second half was such a shocker. It felt like the book turned on a dime and the plot suddenly became so dark and creepy. It turned so quickly that I almost felt jolted out of my light, breezy world. Orsk is an extremely atmospheric setting and I could feel their dread like it was my own. I can only imagine how disorienting it would be to be trapped in a furniture store after hours. I know the plot isn't very original since it's basically a reworked haunted house story, but it was executed really well. There was very ominous imagery that made me wince a few times. I usually have nerves of steel but there were a few scenes where I had to stop and take a pause from the book.
This is by no means the best horror novel I've ever read, but I had a lot of fun while I was reading it.