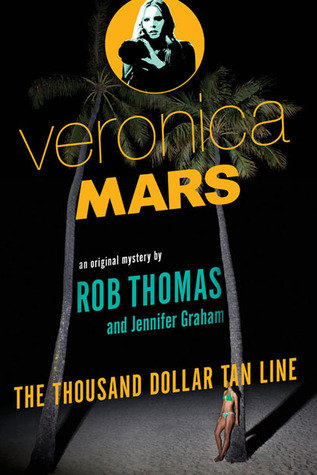 Ten years after graduating from high school in Neptune, California, Veronica Mars is back in the land of sun, sand, crime, and corruption. She's traded in her law degree for her old private investigating license, struggling to keep Mars Investigations afloat on the scant cash earned by catching cheating spouses until she can score her first big case.
Now it's spring break, and college students descend on Neptune, transforming the beaches and boardwalks into a frenzied, week-long rave. When a girl disappears from a party, Veronica is called in to investigate. But this is no simple missing person's case; the house the girl vanished from belongs to a man with serious criminal ties, and soon Veronica is plunged into a dangerous underworld of drugs and organized crime. And when a major break in the investigation has a shocking connection to Veronica's past, the case hits closer to home than she ever imagined.
A long time ago(sorry, I couldn't resist), I fell in love with a petite blonde teenage private investigator named Veronica Mars. I was obsessed with the show – the plot, the characters, the relationships. I religiously watched all 3 seasons and I rewatched them a couple of years after the show was cancelled. I was a huge Logan/Veronica fan, and was desperate to know the rest of their story. I watched the Veronica Mars movie opening weekend, and then watched it again right before I started reading the book.
Basically, I am a huge Veronica Mars fan. HUGE. I thought Veronica was such a strong, smart, and resourceful heroine. She never gave up the chase, was sarcastic and irreverent and always had a quip and some witty banter to go with her crime solving. I loved the movie because I felt like Veronica finally came to peace with who she truly is. She realized that she's always going to be that same nosy little fighter who needs to be in the game. Her desire to change her surroundings and right wrongs will always trump her desire to stay safe. Veronica Mars is fiercely tough and always loyal, but at heart – she's a marshmallow. How can you not love her?
I was both excited and wary when I found out there was going to be a Veronica Mars book series. I wasn't sure if it would still hold the same charm that the TV show did, but seeing as how the book was also by the Veronica Mars creator, Rob Thomas, I had high expectations. I'm happy to say I wasn't disappointed.
While the movie primarily revolved around the show's characters and getting them together instead of the murder mystery, the disappearance of teenage girls during spring break in Neptune takes precedence in this novel. In typical VMars fashion, Veronica becomes deeply involved with this case and with the help of her friends and father, tries to figure out who is responsible. There are some crazy plot twists thrown in and I definitely had some OMG moments.
Veronica is typical Veronica – getting herself into dangerous situations in order to solve the case. I absolutely loved the way her relationships with her friends were portrayed. Mac and Wallace help make Veronica as great as she is, and so does Keith. Keith and Veronica's relationship underwent quite a bit of friction during the movie as he realized she was going to follow in his footsteps. That friction continues in this book, and I thought it was dealt with really honestly. No father is going to be happy that his daughter constantly puts herself in dangerous situations, but Keith really does try to accept Veronica as she is. I think the way their relationship stood at the end of the novel was a big step forward.
The book is by no means perfect. The writing is sometimes a little clunky, and there's nowhere near enough Logan. However, it's so nice to solve a case with the addition of Veronica's thoughts, her interactions with people, and the way she works. I am hoping this series goes on for a long time to come.
Now if you'll excuse me, I'm going to go watch my favourite scene from the movie one more time. There's a little LoVe involved.